At the University of Chicago, there are several ways undergraduate students can incorporate coursework which spans the breadth of neuroscience, reflecting the interests of a large and diverse faculty in such research areas as neurodevelopment, synaptic physiology, cortical circuits, sensation, perception, motor function, reward and addiction, cognitive neuroscience, computational neuroscience, neural networks, machine learning, and the neurobiology of disease neuroscience into their academic experiences and careers.
The new undergraduate neuroscience major offers a BA or BS in Neuroscience. Students may choose electives for breadth or focus on areas such as molecular or computational neuroscience. The Honors program involves a thesis based on significant experimental research.
 For more information visit the College Course Catalog
Neuroscience Internship at the College de France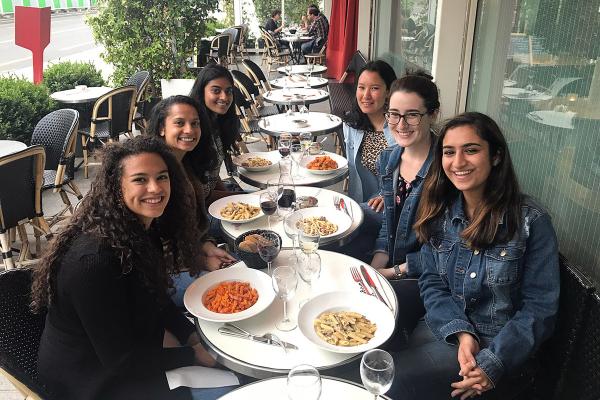 This internship is open to 1st, 2nd, and 3rd year Neuroscience majors. It is intended to broaden the scientific and cultural perspective of students who have already discovered an affinity for and interest in laboratory work. 
Neuroscience Lunches and Teas
Lunch with a Neuroscientist
Come learn about exciting research on campus. Faculty members with diverse interests will talk informally about their work. Check back closer to the fall quarter for upcoming lunch and tea dates.
This will not be a lecture with slides. Instead, this is an opportunity to have a conversation about the big questions that keep these scientists up at night, their thoughts about science, and a life informed by science. If you are interested in getting into research, this is an excellent way to narrow down the type of approaches and topics that are particularly appealing. Space is limited.
Lunch orders close 24 hours prior to the scheduled lunch, space is limited. Sign up now by clicking on the lunch or lunches that you are interested in and filling out the corresponding form. Note that no-shows will not be able to attend future lunches. Please email Neuromajor@uchicago.edu if you will not be able to attend.
Lunch with Sarah London, PhD January 29th, 2019 at 12:30pm
"The Neurogenomics of Learning Potential"  
London Lab Research: We study how and why young animals can learn complex behavior during a restricted "critical period" in development. We use a combination of molecular biology and genomic techniques, in vivo molecular manipulations, and behavioral assays to draw interconnections between neurogenomic activation and behavior. The zebra finch is a powerful model for these studies because the majority of their brain development occurs after hatching, birds grow up in a complex social environment, they can memorize "tutor" song during only one period in development, there are major sex differences in brain and behavior, the neural circuitry required for developmental song learning is known, the genome is sequenced, and the molecular and genomic tools available to probe neural function are constantly advancing.
Lunch with Yamuna Krishnan, PHDFebruary 6th, 2019 at 12:30pm
"Quantitative Chemical Imaging" 
Krishnan Lab Research: A new chemical imaging technology that uses DNA nanodevices as fluorescent reporters to quantitate chemical messengers in living systems. Until this innovation, it was not at all obvious whether such DNA nanodevices could function inside a living cell without being interfered with, or interfering with, the cells own networks of DNA control. We can now transform excellent, qualitative detection chemistries for various analytes into quantitative detection chemistries. We can localize virtually any detection chemistry tissue-specifically in specific pre-designated subcellular locations in live organisms. Given the powerful ability to engineer a range of functionalities into DNA assemblies, we create versatile biological imaging tools where none exist and thereby unplug decades-old bottlenecks that have prevented quantitative measurements required to answer questions in cellular neuroscience.
Lunch with Bobby KASTHURI, PhD February 20th, 2019 at 12:30pm
Kasthuri Lab Research: is using high energy X-rays to create complete and comprehensive maps of the brain. The stacks of images generated result in staggering amounts of data that can be segmented to identify the location of every neuron, blood vessel, and component of the brain. By generating maps of healthy mice and human brains, scientists can compare them to pathological samples to better understand cellular and ultimately synaptic differences in diseased brains affected by autism, diabetes and stroke, among other diseases.
Lunch with Leslie Kay, PhD March 4th, 2019 at 12:30pm
Kay Lab Research: The study of olfactory and limbic system neurophysiology, focusing on the mechanisms and functions associated with intra- and inter-regional oscillatory cooperativity.
Lunch with Sarah Keedy, PHD March 11th, 2019 at 12:30pm
"The Cognition-Emotion Neuroscience Laboratory"
Keedy Lab Research: the CENSL, focuses on cognitive and emotional neural systems - and their overlap - in patients with psychiatric disorders as well as in healthy individuals. CENSL utilizes highly sensitive neurophysiological and neurocognitive methods. A major area of focus for this work is in psychotic disorders, Dr. Keedy's area of expertise, including schizophrenia, schizoaffective disorder, and bipolar disorder. CENSL also currently supports work in aggression, personality, anxiety, eating disorders, HIV, development, and other areas.
Lunch with Wei wei, phdApril 16th, 2019 at 12:30pm
"Neural circuit function and development in the visual system"
Wei Lab Research: We are interested in the synaptic basis of neural computation in the retina. Our current research is focused on understanding the developmental and adult patterns of synaptic connections underlying the retinal circuits, and determining how the specific wiring patterns impact visual processing.
Lunch with Xiaochang Zhang, PhDMay 7th, 2019 at 12:30pm
"Brain development and disorders"
Zhang Lab Research: How our brain is developed and evolved remains a major question in biology, and abnormal development of the human brain can cause autism and epilepsy. We study fundamental mechanisms of brain development and disorders, and our specific interests include: tracing cell lineages in mammalian brains, genetic mechanisms of neuronal type specification, and roles of alternative RNA splicing in neural development and diseases. We develop and apply single cell approaches, animal models, and functional genomics to address these questions.
Tea with the Undergraduate Major Director
Journal Clubs
For those of you who just can't get enough neuroscience, consider joining a journal club. Two new journal clubs oriented specifically for undergraduate Neuroscience majors are starting up and two established journal clubs are open to more undergraduate members. Below is the information. Please email the contacts directly if you want to join.
Neurophilosophy
Computational Approaches to Cognitive Neuroscience
Biopsychology
Centered in Kay, London, Prendergast laboratories
Schedule: ​​​​​​​Monday 4pm – 5pm (BPSB#123)
Contact: Joe Gogola (gogola@uchicago.edu)