At the University of Chicago, there are several ways undergraduate students can incorporate coursework which spans the breadth of neuroscience, reflecting the interests of a large and diverse faculty in such research areas as neurodevelopment, synaptic physiology, cortical circuits, sensation, perception, motor function, reward and addiction, cognitive neuroscience, computational neuroscience, neural networks, machine learning, and the neurobiology of disease neuroscience into their academic experiences and careers.
The new undergraduate neuroscience major offers a BA or BS in Neuroscience. Students may choose electives for breadth or focus on areas such as molecular or computational neuroscience. The Honors program involves a thesis based on significant experimental research.
 For more information visit the College Course Catalog
Neuroscience Internship at the College de France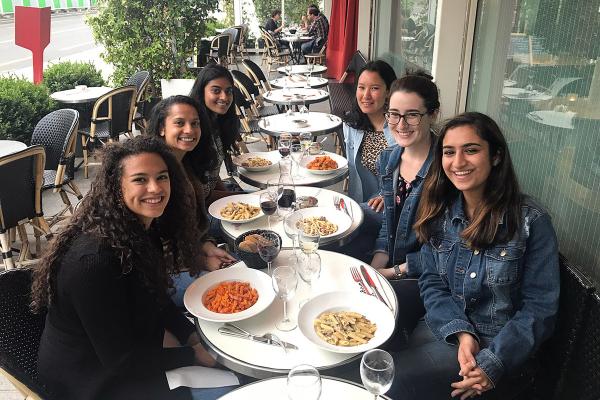 This internship is open to 1st, 2nd, and 3rd year Neuroscience majors. It is intended to broaden the scientific and cultural perspective of students who have already discovered an affinity for and interest in laboratory work. 
Neuroscience Lunches and Teas
Lunch with a Neuroscientist
Come learn about exciting research on campus. Faculty members with diverse interests will talk informally about their work. Check back closer to the fall quarter for upcoming lunch and tea dates.
This will not be a lecture with slides. Instead, this is an opportunity to have a conversation about the big questions that keep these scientists up at night, their thoughts about science, and a life informed by science. If you are interested in getting into research, this is an excellent way to narrow down the type of approaches and topics that are particularly appealing. Space is limited.
Lunch orders close 24 hours prior to the scheduled lunch, space is limited. Sign up now by clicking on the lunch or lunches that you are interested in and filling out the corresponding form. Note that no-shows will not be able to attend future lunches. Please email Neuromajor@uchicago.edu if you will not be able to attend.
Lunch with Matthew Kaufman, PhD May 28th, 2019 at 12:30pm
Kaufman Lab Research: Decision making is a core component of cognition, and movement is how we make those decisions impact the outside world. My lab aims to understand the neural computations that underlie decision making and motor control. That is, how do networks of neurons in the brain categorize stimuli, choose appropriate courses of action, and generate the complex signals needed to control the muscles.
Tea with the Undergraduate Major Director
Questions about classes? Summer internships?
Meet with the NSCI Major director to discuss opportunities available within the major. Sign up and come with all your questions.  
May 21st:
4:00pm
Signup 
Journal Clubs
For those of you who just can't get enough neuroscience, consider joining a journal club. Two new journal clubs oriented specifically for undergraduate Neuroscience majors are starting up and two established journal clubs are open to more undergraduate members. Below is the information. Please email the contacts directly if you want to join.
Neurophilosophy
Computational Approaches to Cognitive Neuroscience
Biopsychology
Centered in Kay, London, Prendergast laboratories
Schedule: ​​​​​​​Monday 4pm – 5pm (BPSB#123)
Contact: Joe Gogola (gogola@uchicago.edu)